Please join us in making the 14th annual DeMayo Law Offices Food Drive the most successful food drive we have ever had in our history! This year, we are matching donations through the month of February. Help us reach our goal of donating $10,000 this year!
For 14 years DeMayo Law Offices (DLAW) has sponsored an interoffice competition focused on donating food to the Second Harvest Food Bank. While the rules and teams have changed throughout the years, the goal has always been to contribute the maximum number of meals (pounds of food) to feed the hungry. Given the competitive nature of lawyers in general and our firm in particular, we have been extremely successful in surpassing our goals every year. 2020 has presented a unique set of challenges and obstacles due to the pandemic. In an effort to continue our tradition of exceeding our past performance for the first time ever we are including members of the community along with the DLAW team to make this year, the biggest food drive yet!
Instead of food donations DLAW, in partnership with Second Harvest Food Bank, is seeking monetary donations to help feed struggling families in our community. Due to Covid-19, our joint food drive will be limited to monetary donations with matching gifts from DLAW. Every dollar contributed equals 7 pounds of food.
Together we can make a difference. Donate today!
Past Annual Food Drives
By splitting its staff into teams, DeMayo Law Offices have collected enough food to serve over 200,000 individual meals in its annual food drive. The donations are received by the Second Harvest Food Bank of Metrolina.
Each year, our staff competes against each other to see who can donate the most food. Since starting the program in 2004, our firm has gathered a total of 48,632 pounds of food including financial donations converted to pounds. At the beginning of each competition, Mr. DeMayo agrees to match his employees' total food contribution and has donated an additional $28,000 to the food bank. This year our firm brought in 6,079 pounds and matched that total with a monetary donation of $6,079.00
With the firm's monetary and food donations, the food bank has been able to provide more than 218,000 individual meals. The firm collects canned fruits, soups and vegetables, as well as high protein foods including tuna, chicken and beef.
"Being a part of this annual food drive is one of our favorite community service projects. It's our way to help alleviate the hunger that many people in our community experience on a daily basis, especially during the holidays," Mr. DeMayo said.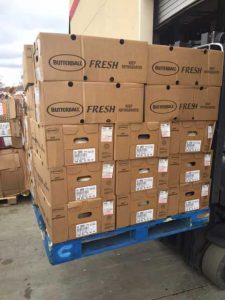 Second Harvest Food Bank of Metrolina serves 19 counties in North Carolina. Last year, the food bank distributed more than 33 million pounds of food and essential grocery items to 650 non-profit agencies and churches serving the needy as well as to food banks in other areas.
For more information about our Community Service Programs, contact us, at (877) 333-1000 or info@demayolaw.com.